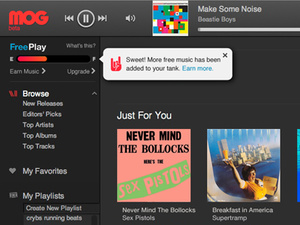 Facebook drops MP3 player for streaming partners
Facebook has discontinued its Music Player app and is pushing users towards streaming music partners, an enthusiast site reported Tuesday (Manila time).
InsideFacebook.com said Facebook has started alerting Page admins that the official Music Player app it developed years ago will no longer be available.
"The Facebook Music Player app is being replaced with better ways to incorporate music on your Page," Facebook said of its Music Player and Discography apps.
It said alternatives may include:



Post music videos on your page Wall so people see your music in their news feed.

Use apps built by other developers that enable people on Facebook to discover and listen to your music.

Like the Music on Facebook Page to stay up-to-date on new ways to share music with your audience.

InsideFacebook said the Music Player app had allowed Page admins to upload an MP3 and add track information, and the song would then be shared to the news feed and streamed in-line.
The same app also appeared to let users post songs to the news feed by adding the URLs of MP3s to the publisher, it added.
With the development InsideFacebook said the social network could be developing its own basic Page tab application to allow musicians to share music.
"Alternatively, it may be trying to avoid copyright issues and clear the way for third-party music sharing apps including Spotify and RootMusics BandPage," it added.
InsideFacebook said the notice of the removal of the Music Player app starting October 31 is appearing at the top of Pages to their admins.
It follows similar alerts about Facebook discontinuing the Discussions and Reviews Page tab apps.
Promoting 3rd party music page tab apps
InsideFacebook noted Facebook presently does not offer its own Page tab app for permanently hosting streaming music.
Facebook instead allows third-party developers such as RootMusic, ReverbNation, and Bandcamp to provide musician profile apps.
"While these services let artists share their songs for in-line news feed streaming, they are more complex and take more time to set up than Music Player. Facebook could introduce a lightweight tab app replacement for Music Players 5,000 monthly active users, or simply leave that problem for third-parties to solve," it said.
Copyright, other issues
For now, users could comply with Facebooks request to share videos instead, as the videos are generally hosted on services such as YouTube, which scans for unlicensed usage of songs.
But InsideFacebook said it could still disrupt behavior of independent musicians who hosted MP3s themselves and wanted to share them with their Facebook friends without setting up a Page or video service account.
Streaming music partners over MP3s
Earlier, Facebook announced partnerships with music services Spotify, Rdio, and more to allow listening activity of Facebook users to be published to their profiles and the news feeds of their friends.
When users click links in these stories, the corresponding music app launches to play a song.
"As part of these partnerships, Facebook may be trying to move users away from MP3 files that are commonly used to illegally share music. It could be seen as violating copyright by by hosting MP3 files uploaded to Music Player, it added.
Also, it said pushing users to find the song they wanted to share on Spotify or another serviceThis could please partners.
Yet another possible benefit for Facebook is allowing users to buy subscriptions to paid streaming services with Facebook Credits, from which it takes a 30-percent tax, InsideFacebook said.
"In the end, Facebook may have seen little need to continue supporting the Music Player app. There are better Page tab apps available from third-parties, it competed with Facebooks music partners, and it presented copyright infringement risks," it said. TJD, GMA News